Botanical Konyaku Sponge Pink Clay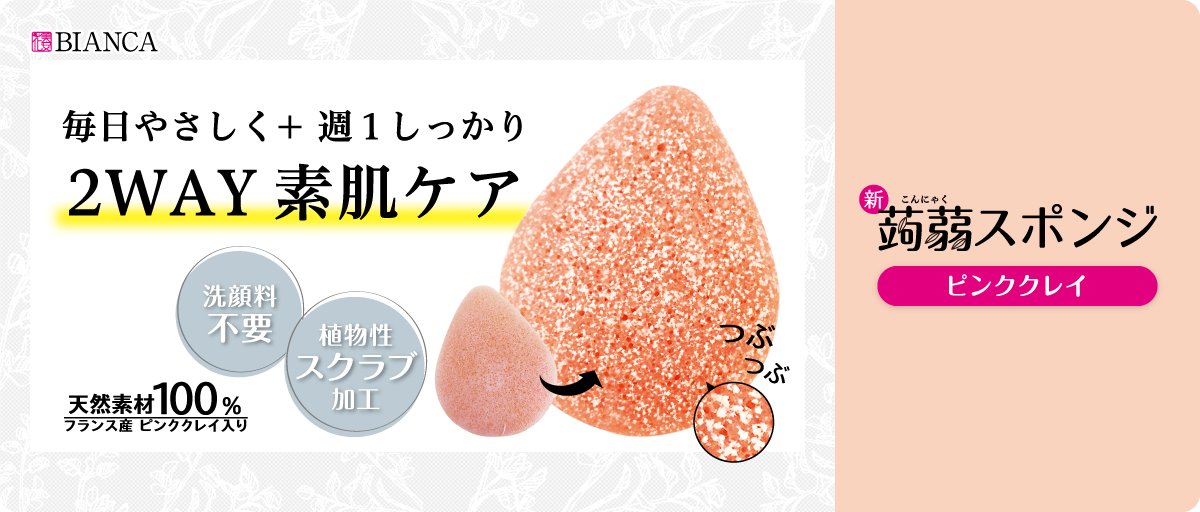 What is Botanical Konyaku Sponge Pink Clay?
You do not need soap or cleansing foam to clean dead skin cells and dirt inside your pores. You only need this pink sponge!
I am so worried about my skin!
• Dirt in the pores
• Dead skin cells
• Dried skin
• Greasy skin
Back part of the sponge
Botanical scrub! You just need to scrub your face with this cute water drop shaped sponge!
Fine fiber on the back cleans off the dirt on your face.
100% Natural ingredients!
People with sensitive skin may use the sponge for washing and skin care.
You do not need soap or face wash!
If you wet this soft konyaku fiber with warm water, light alkaline layer is created. This alkaline layer softly takes off dead skin cells and dirt in your pores.
Scrub your face just once a week. Fine fibers on the sponge will pull out the dirt in your pores.
※White particles that appear on the front of the sponge when the sponge is dried are powdered vegetable fiber (cellulose).
Pink clay made in France
Small particles on the sponge absorbs dirt in the pores and dead skin cells on your face.
Cute water drop shape lets you reach the detailed parts of your nose.
You do not have to store the sponge on the dirty sinks or on the toilet. You may hang the sponge with the attached string!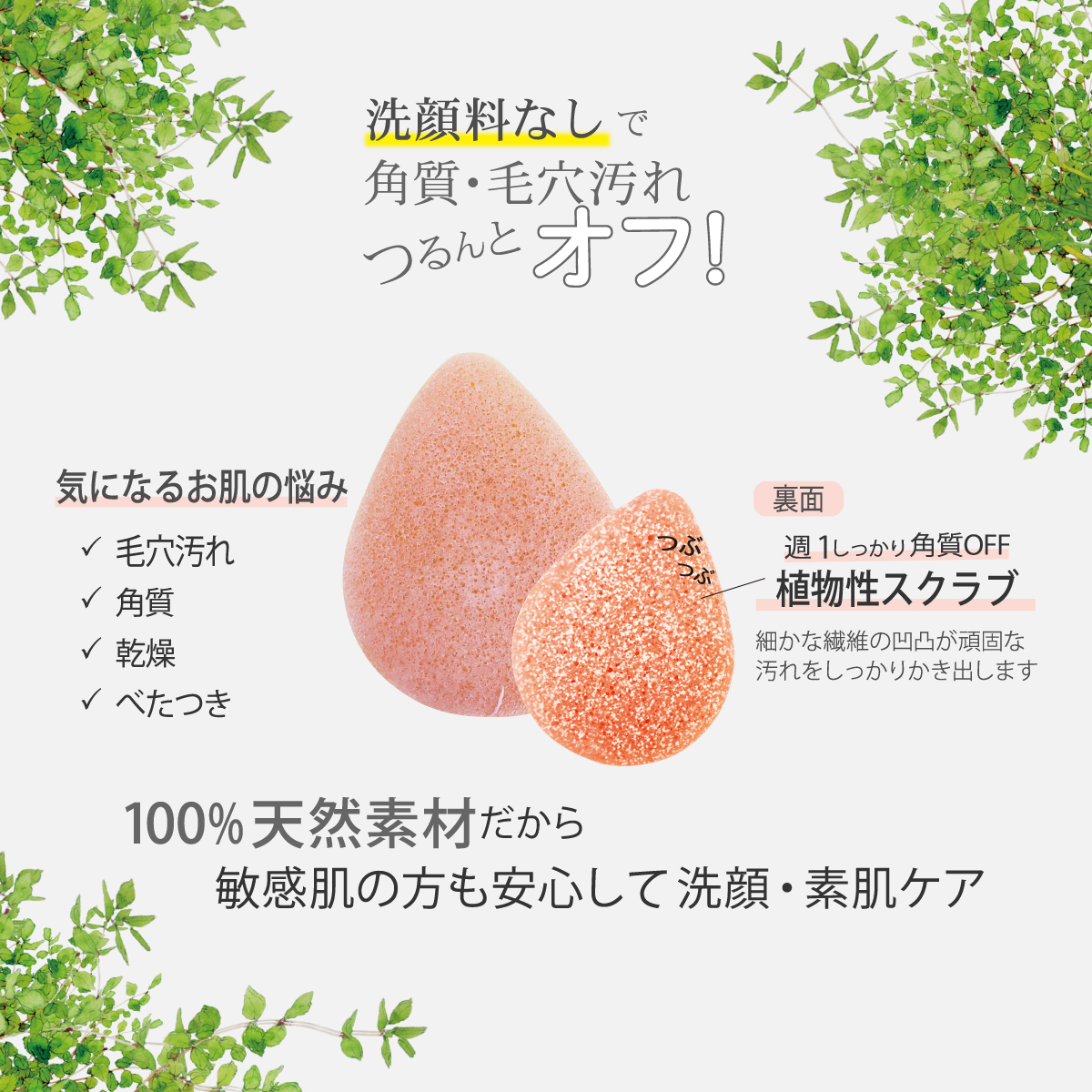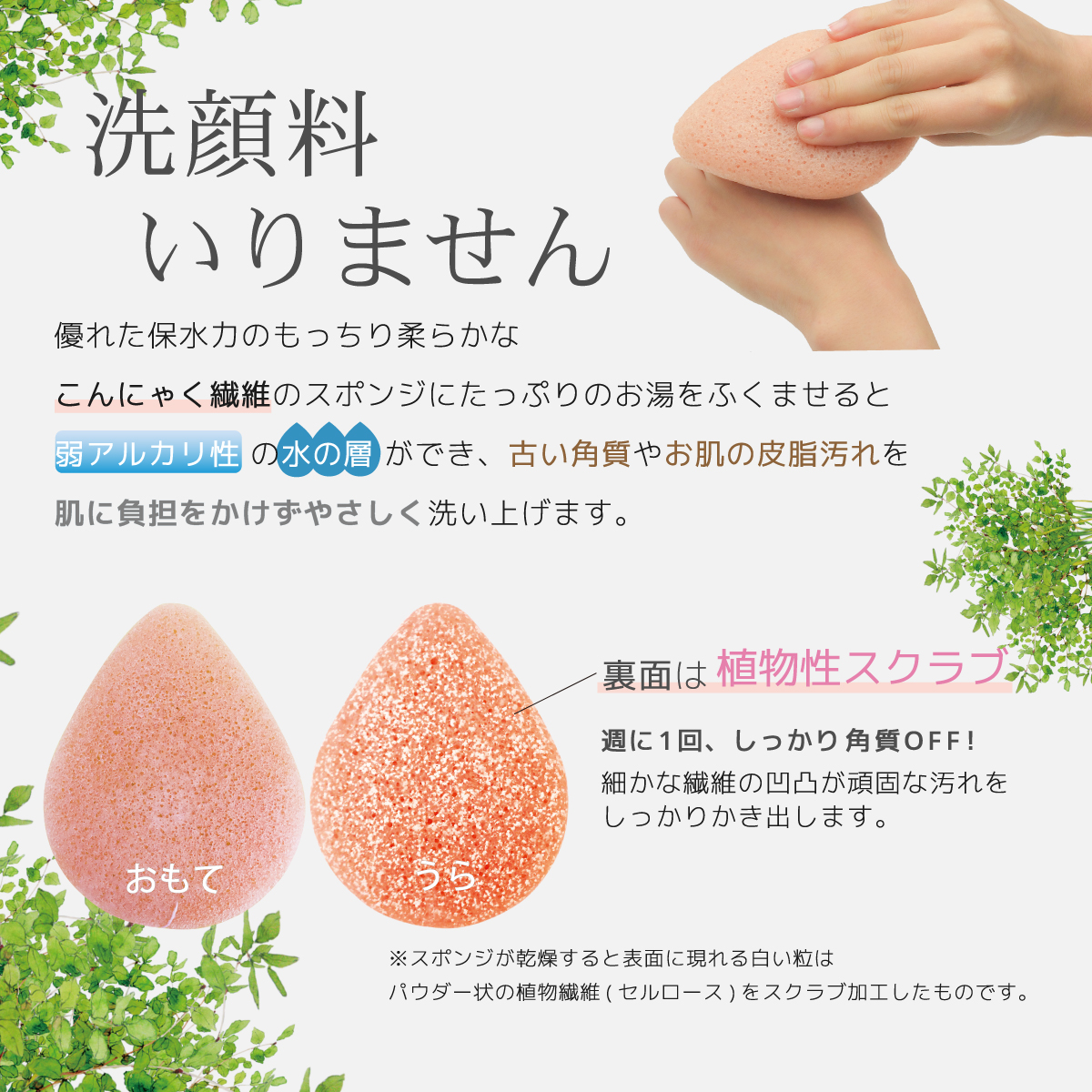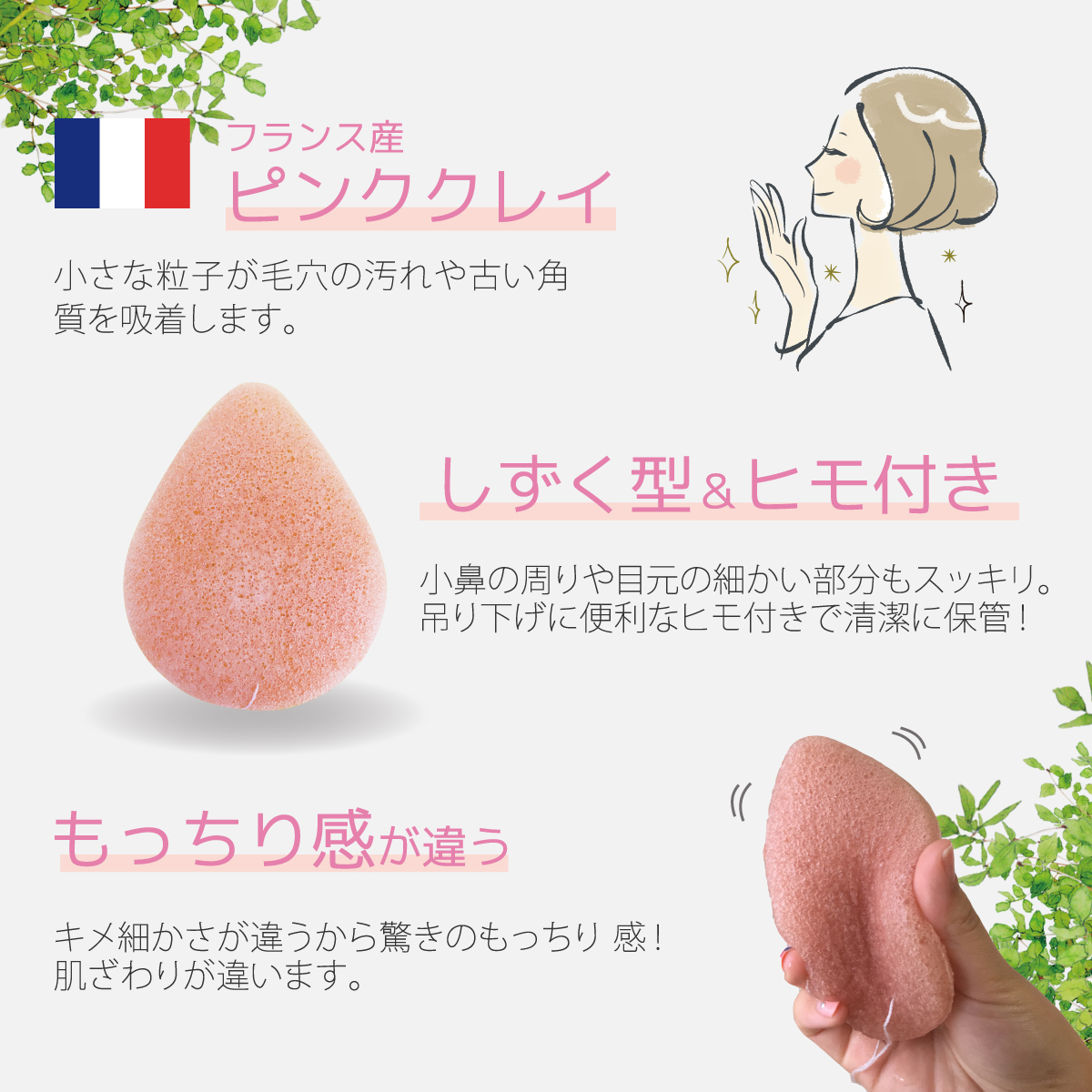 How to use
1. Wet the product with either warm or cold water.
2. Please massage gently, drawing a circle lightly on your face with the softened sponge. You do not need a cleanser or cleansing foam.
3. Please massage gently using the back of the scrub once a week.
※Scrub results will be different depending on individuals. You cannot remove makeup with this product, but you can use it with a cleanser. Please use the scrub face according to your skin condition.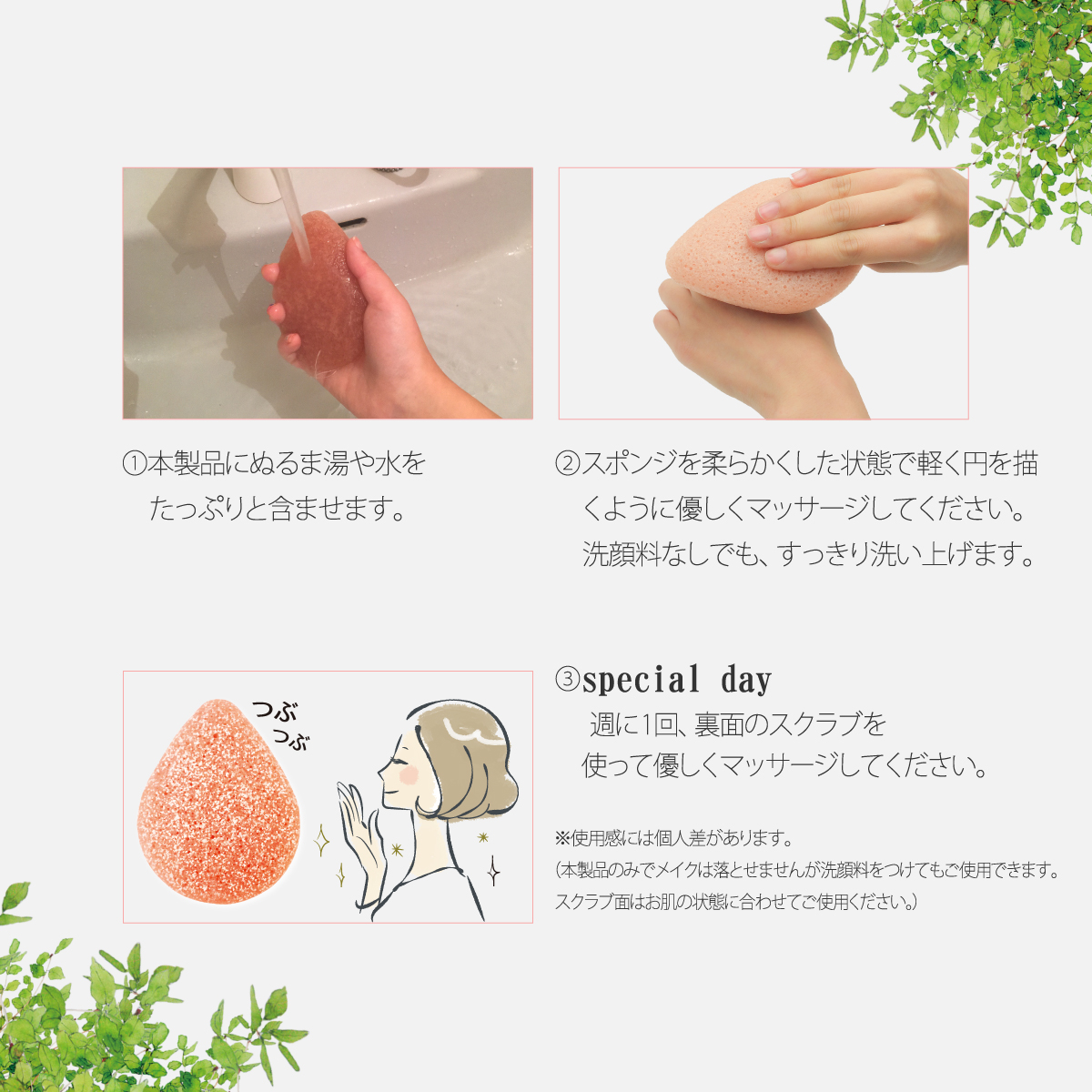 Variation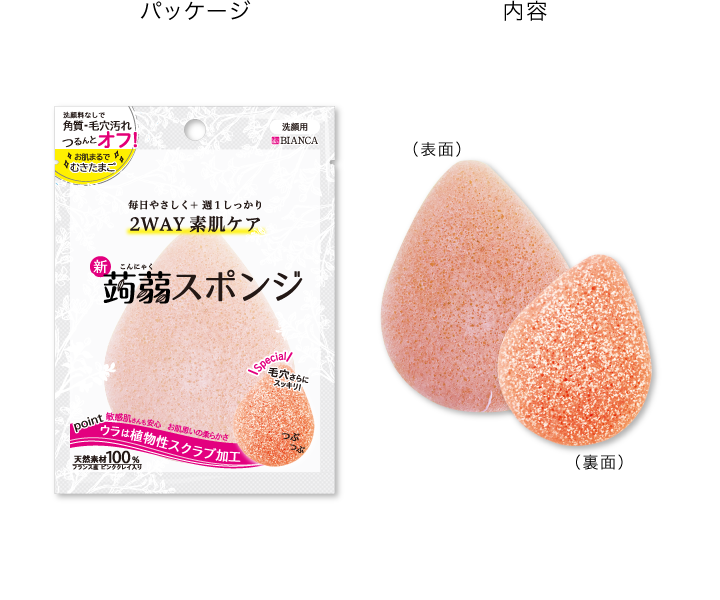 Product
[Product] Botanical Konyaku Sponge (Pink Clay)
[Retail price] 598YEN
[Material] Konjac fiber, pink clay, cellulose / String: Polyester
[Antibacterial agent]Methylisothiazolinone
[Product size] W85×D30×H115 mm
[Package size] W130×D30×H180 mm / Weight: 27g
[Origin of country] Korea
Cautions
天然素材を使用していますので、カビが発生する場合があります。
使用後は水気を切り、風通しのよいところで保管するか、ビニール袋などに入れて冷蔵庫で保管してください。
乾燥すると硬くなりますが、水分を含ませると元に戻ります。また、スクラブ面は乾燥すると表面に白い粒が現れますが品質に問題はございません。
天然素材のため、使用することで徐々に繊維が分解されていきます。使用・保管条件により異なりますが使用後約3ヶ月を目安にお取替えください。
酵素配合の洗浄剤や入浴剤と一緒に使うと繊維が分解されますので使用しないでください。
お肌に合わないときは使用を中止してください。
商品の仕様やパッケージデザインは予告なく変更される場合がございます。
お肌に合わないときは使用を中止してください。
使用感には個人差があります。