Botanical Konyaku Sponge Baby

You do not need soap!

First, wet the sponge with plenty of water. Instead of rubbing the sponge against the baby's skin, smoothly massage the skin as if you're drawing a circle. Thin alkaline water layer will be created when the sponge is wet.
100% natural fiber and no additives!
Babies and people with sensitive skin may easily use the product.
Finished with excellent moisture retention
Gentle washing feeling wrapped in a happy mood.
Tired mother's skin also will be getting like a baby soft skin.
Tear drop shape
Water drop shape lets you reach detailed parts of the baby's body.
Variation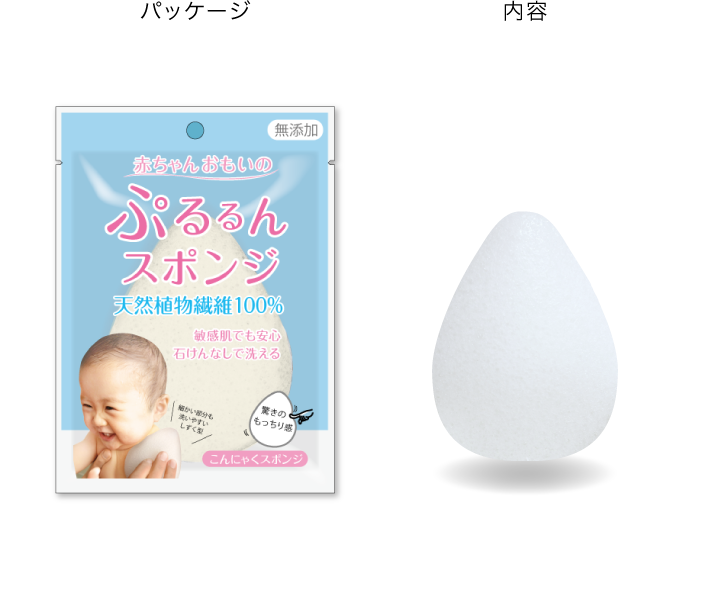 Product
[Product] Botanical Konyaku Sponge Baby
[Retail price] 498YEN
[Material] Sponge: 100% Konjac fiber / String: Polyester / Antibacterial agent: Methylisothiazolinone
[Purpose] Body/facial scrub
[Product size] W85×H115×D30 mm
[Package size] W130×H180×D30 mm / Weight: approximately 27g
[Origin of country] Korea
Cautions
Since the product contains purified water containing antibacterial agents, please wash the product with running water before use.
Since the product is made with natural materials, mold may occur. After using the product, please remove water as much as possible and store it in a cool place OR put the product in a plastic bag and store it in the refrigerator.
When the product is dried, it will become hard. However, if you put plenty of water into the sponge, it will return to its original shape.
Since the product is made of natural material, fiber may gradually decomposed. Please replace the product with a new one approximately 1 month after use. (Usable time will depend on the usage and storage condition.)
Do not use the product with a washing soap or bath additives.
Please stop using the product if the product is not suitable for your baby's skin.